Dedicated Professionals
Our caregivers offer a level of support and interaction that helps seniors remain engaged in life, reducing their feelings of isolation and encouraging activities that stimulate thinking and promote physical well-being. That is why we meticulously screen each candidate to make sure they "have what it takes" to work with our families.
Ultimately, our Care Managers are here ensuring that each caregiver passes the company hiring litmus test which is "would we feel comfortable having this potential employee care for our own mother?"
All our employees are Licensed, Bonded and Insured.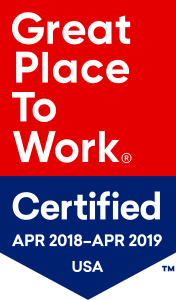 Care To Stay Home is proud to be certified as a Great Place to Work. In addition to this accreditation, Care To Stay Home has been nominated as a Great Place To Work in Aging Services. Our employees feel a sense of pride and accomplishment when working for Care To Stay Home. We feel we have some of the best, brightest and most talented caregivers in the industry.
Here are a few highlights from our existing employees:
97% of our employees stated that when they look at what we accomplish as a company, they feel a sense of pride in the work they do.
95% of our team feel that Management is approachable and easy to talk with.
95% of our employees feel they make a difference at Care To Stay Home
95% of our employees say that Management trusts people to do a good job without watching over their shoulders.
We know why our existing employees love working with Care To Stay Home. We are proud of our high standards of care that come from our dedicated, compassionate and caring caregivers. If you would like to learn more about our employment opportunities, check our jobs page here.