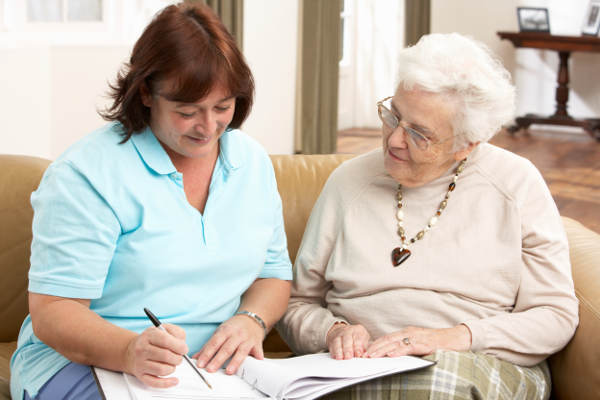 Thank you for working with our clients. Here you will find information and resources on how to document and record the Activities of Daily Living you provide your client during your visit.
As professional caregivers, our role is to provide support and assistance with the Activities of Daily Living (ADL's) each time we are with our clients. These essential activities are key to supporting our clients to live safely at home. The basic ADL includes the following categories:
Ambulating: The extent of an individual's ability to move or walk.
Feeding: The ability of a person to feed oneself.
Dressing: The ability to select appropriate clothes and to put the clothes on.
Bathing: The ability to bathe and groom oneself and maintain dental hygiene, nail, and hair care.
Continence: The ability to control bladder and bowel function
Toileting: The ability to get to and from the toilet, using it appropriately, and cleaning oneself.
Transferring: The ability to move from a sitting position to a standing position or to move oneself from a bed to a wheelchair.
For more information on the Activities of Daily Living, please watch the following video: Understanding Activities of Daily Living
We are making some changes to how we report ACTIVITIES performed with a client while at work. We are asking each employee to document the activities performed, either Hands-on OR Stand By assistance, during your shift. Each shift we will be asking you to complete the Activities section in eRSP using the eRSP app or a web browser on your phone. For those using Telephony, you will need to report the Activities performed during your shift when you clock out from your assignment. We will also be asking you to sign your name at the end of your shift as well as have your customer sign. You can access this information using the online portal or through the eRSP app. Please take a look while you are at work in your eRSP app or on a web browser to see the Activities section (under the Notes) online. You can access eRSP on a mobile web browser by going to ctsh.ersp.biz and by logging into your account as a caregiver.
Hands-On Care means any activity that requires you to physically touch or assist a client. This includes holding someone's arm while ambulating (Walking), assisting a client to get out of a chair (Transferring), physically helping when bathing, including, but not limited to helping wash the hair, back, feet, or any part of the body as well as assisting in and out of the shower, drying off, etc. Hands-on care can mean assistance with MULTIPLE Activities of Daily Living during one activity. For example, when a client goes to the bathroom, often times the caregiver is involved in helping the client remove their clothing (Dressing Assistance), sit on the toilet (Transfer Assistance), and assistance cleaning up after the restroom (Toileting Assistance). In this one activity, the caregiver has assisted the client with Dressing, Transferring, and Toileting)
Stand By Assistance: Oftentimes our clients may want space or may want to continue to do activities independently. Caregivers oftentimes find themselves standing by the client ready to assist should the need arise. Stand By assistance means being within arms reach of the client, ready to help the client if needed. As mentioned above, caregivers often perform Stand By assistance with MULTIPLE Activities of Daily Living every time they are on shift. If they are standing by when the client goes to the restroom, taking a shower, or even walking down the hall (Ambulating), or if they are standing by when the client gets out of a chair (transferring) then we need to document that assistance.
We want you to record ALL activities performed during your shift – both Hands-On and/or Stand By assistance. It is important to note down anytime you are involved in helping the client perform any of the Activities of Daily Living. Recording the Activities performed during your shift is a required aspect of your daily responsibilities. You will also need to SIGN YOUR NAME when you complete the Activities Section in the Mobile Connect app or when using the ctsh.ersp.biz weblink. We would also like you to have the client sign off in the Client Signature tab each day. If you need help logging into your eRSP account or would like to learn more about how to record Activities performed, please feel free to contact our office at (949) 916-6705. Thank you for keeping our clients safe and happy at home.
Sincerely,
Care To Stay Home Management
Here is a short training video showing you how to clock in and record activities using the eRSP Mobile Connect app:
Here is a video demonstrating how to record the Activities of Daily Living using your smartphone mobile web browser.